First Aid Eye-Wash
EyeSpray?
Eye protection in an industrial environment: Simple, effective and safe
EyeSpray Eyepray is a first aid eyewash, designed and produced in Sweden by GIA Premix, the Scandinavian leader in emergency showers. GIA Premix and EyeSpray showers are distributed in Switzerland and neighboring countries by LaboSafe SA, in Neuchâtel, specialist in emergency showers and industrial safety.
EyeSpray is a simple and safe eyewash concept.
It is a rack with two bottles containing a solution of sterile saline water projected in the form of a spray.
The shower is simply activated when the lid is lowered. The rinsing time of the bottles is more than 15 minutes.
After activating the shower, both hands remain free to hold the eyelids open and guarantee effective rinsing of the eyes.
After use, the closed lid reveals a red flag indicating that the bottles have been used and must be replaced.
The bottles carry a production date. It is recommended that unused bottles be replaced 3 years after installation.
The rack is fixed to the wall, so that the bottles, in the active position, are 1.10 m above the ground, as for a traditional eyewash.
This system does not require a connection to the main water n or the installation of a mixer to temper the water.
The fields of application are in all industrial environments, workshops, laboratories, schools, etc., when there is a risk of being in contact with products that can be dangerous for the eyes. Especially when a connection to the mains is non-existent or limited.
It is also recommended to install them in hospitals and infirmaries.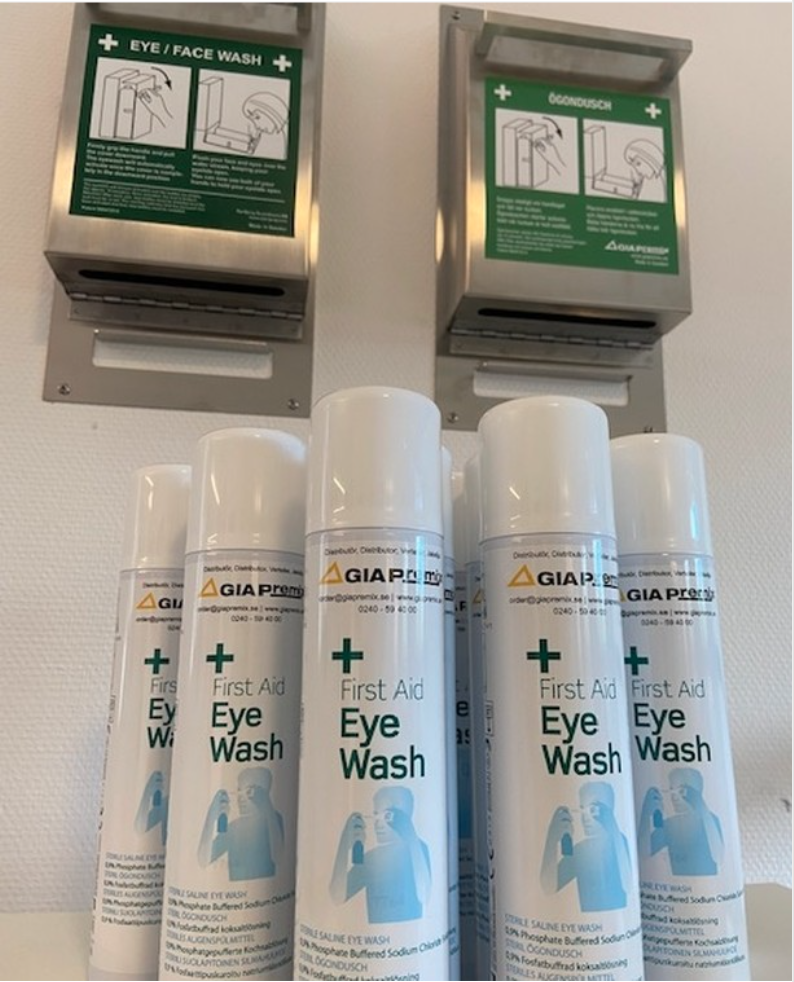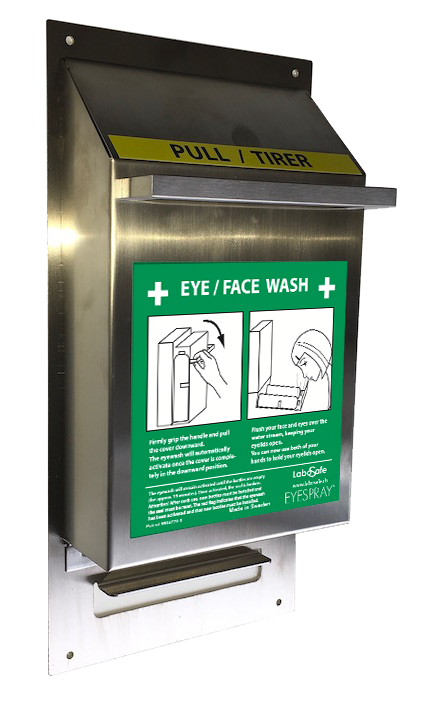 The new EyeSpray racks are entirely made of high quality stainless steel, 316L, with a new magnetic closing system, ensuring that the lid does not open unexpectedly..

The bottles are also produced in Sweden, in clean rooms, by Aurena Laboratories, following a certified quality process to guarantee perfectly sterile rinsing water. Rinsing water is simply a buffered saline solution made from a phosphate and natrium salt, specially designed for rinsing the eyes.
The racks are delivered with installation, use and maintenance instructions, on affixed labels, and on an attached document to be kept. Sealing and expiration date labels are also supplied.


2000+
EyeSpray Eyewashes installed in Switzerland
100+
Clients - industries, laboratories ans schools
20+
Years of experience in security
140+
Years of experience of the company group
Our Products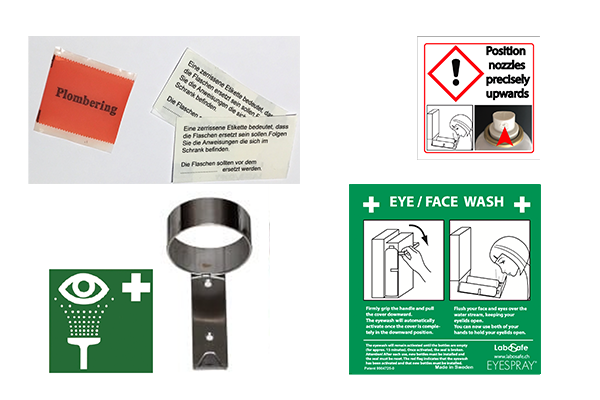 Other accessories
Sealing labels, replacement self-adhesive labels, supports, etc.
On request/p>
GIA-Premix emergency showers.
EyeSpray first aid eyewashes, in the immediate vicinity of dangers, allow very rapid intervention. We know that it is the first seconds that count in preventing serious, sometimes irreversible, damage.
But it is also necessary to provide an infirmary, or emergency showers for the eyes and the faces, or combined showers, at about 10-15 meters, according to the dangerousness of the products to which one is exposed, to continue the rinsing. The complete range of GIA premix emergency showers makes it possible to offer an effecient global safety concept.
Also visit our website giapremix.ch. Although this site is currently under reconstruction, you will find our latest models here. But call us for the most up-to-date information. Our team will be happy to help you benefit from our long experience.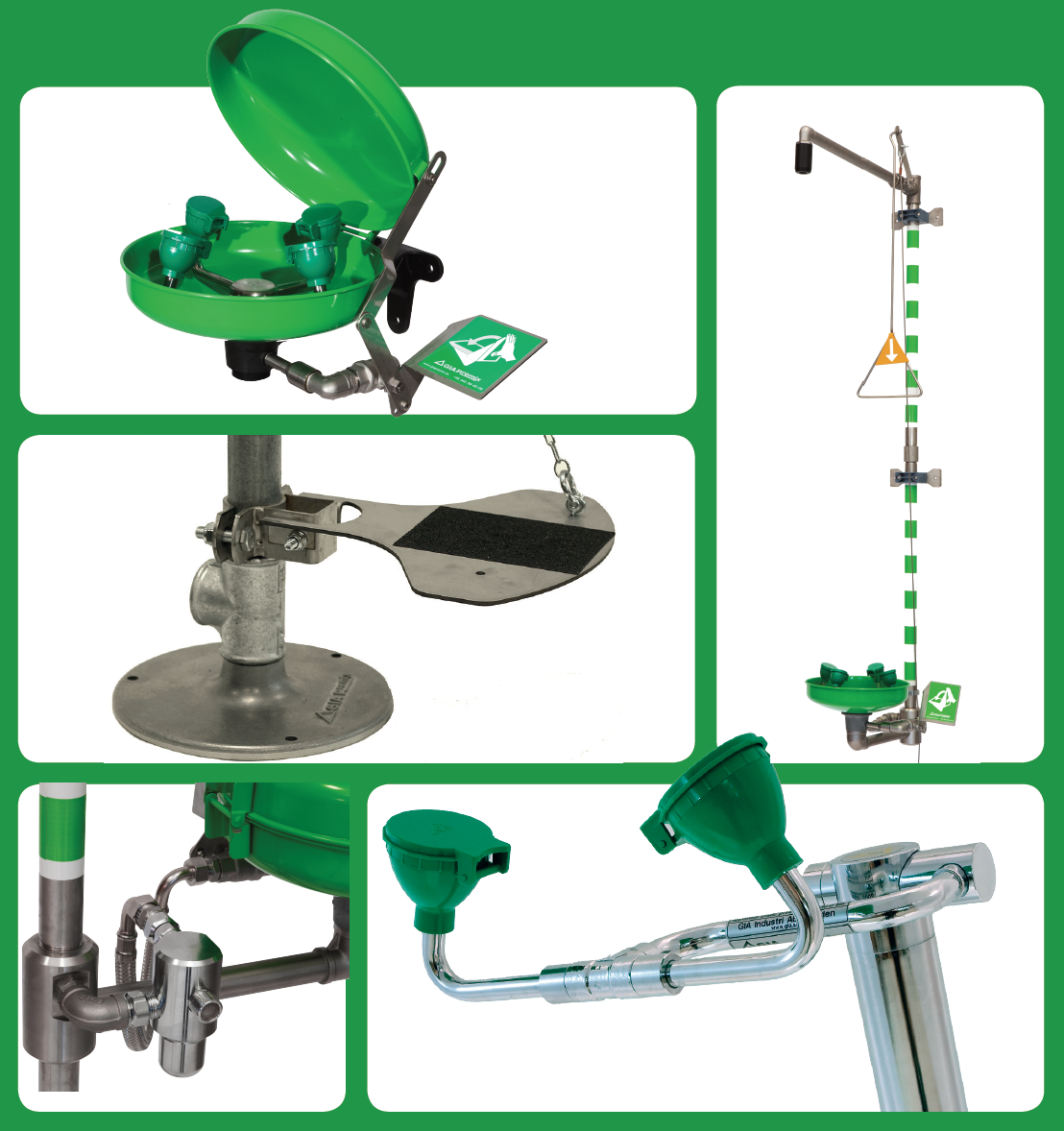 DOCUMENTS
Although we are happy to advise you and answer your questions, you can also download very useful information and documents from the list below: